Location: Sunnyvale, CA (and remote)
Our client company: eGain Corporation — www.egain.com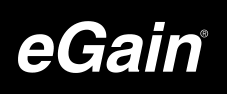 Sr. Manager/Director, Demand Generation
We are a B2B SaaS vendor in the white-hot digital customer engagement and AI space, serving enterprises and the midmarket. We have an exciting position to be on the front seat of driving demand to support aggressive growth goals for the company.
Responsibilities:
Run a scalable and accountable demand generation engine to drive pipeline of qualified leads to support aggressive new logo acquisition and bookings growth targets
Drive uptake for events such as company's user conferences, webinars, company booth at brick-and-mortar and virtual trade shows, and other prospecting events
Figure out and implement content strategy to drive traffic and prospect interest; get hands-on with content writing, as and when needed
Double meaningful website traffic year over year
Manage, analyze, and optimize demand generation campaigns with a focus on digital marketing, including display and search marketing, email marketing (including multi-stage nurture), account-based digital marketing, social marketing (e.g., LinkedIn), and other digital tactics
Analyze buyers' digital journeys for actionable insights and optimization
Execute co-marketing programs with technology and channel partners
Collaborate with sales management and translate company bookings targets to marketing campaign strategy, programs, and associated metrics
Requirements (must have):
8-10 years of proven track record in B2B marketing with at least 5 years of accountable, hands-on experience in demand generation in customer service/customer engagement/CRM/contact center/AI/knowledge management or closely related space. Combination of in-house and the right agency experience is acceptable.
Minimum of 4 years of hands-on experience in digital marketing with deep understanding of Google retargeting/remarketing and SEO/SEM campaigns, Google Analytics, digital marketing tools, including marketing automation and CRM tools.
Highly motivated and results-focused with experience from large and small companies.
Ability to set and beat quarterly demand generation goals to support quarterly lead generation and bookings targets as well as demand for individual marketing events.
Big picture-thinking as well as rolling up sleeves and getting into tactical work. Should be able to create a demand generation plan and write demand generation copy.
Strong communication and collaboration skills, both verbal and written.
To inquire:
Contact: Dan Green <dgreen@vpofmarketing.com>